December 2017 Field Trips

Monday
December 4, 2017
8:00 pm (tour starts at 8:30 pm SHARP)
COST:         $7.50 student, $4.50 adult  (no refunds)
PLACE:    Logan's Candies
125 W. "B" Street
Ontario, CA 91762
PARKING:  Either behind the store off of N. Laurel Ave. or on W. "B" Street.
DIRECTIONS:  10 E; off at Euclid Ave., turn Right; then Right on W. "B" Street
Deadline:   Friday, November 17th, 2017 (or until full, no exceptions)
Every year near the Christmas Season we host candy making demonstrations. Come and see the craftsmanship and care we put into all of our handmade, gourmet candies. Each person (adults too) will get to bend a warm candy cane. We even share the candies that we make right in front of you. Each child will get a goodie bag of candy.
This is a fantastic experience. Hope you will join us. Please bring a jacket because the tour starts outside of their store.
Please note: public restrooms are not available, please plan accordingly.
For questions:  eiefieldtrips@gmail.com
Nutcracker Ballet – Bridges Auditorium
Friday
December 8, 2017
9:00 am to 11:30/12:00
(we will not be seated until everyone has arrived – please be on time)
COST:         to be determined
PARKING:    Free
PLACE:          450 N College Way, Claremont, CA 91711
DIRECTIONS:  210 E, or 210 W, off at N. Towne Ave., turn Right on N Towne Ave, Left on W. Foothill Blvd., Right on N. College Ave., Left on E 4th St – continue straight and road turns right and then turn Left into parking garage
Deadline: Monday, November 7, 2017
Critically acclaimed Inland Pacific Ballet's The Nutcracker comes to life in this magnificent holiday ballet with dazzling sets, beautiful costumes, and more than 80 dancers on stage. This annual yuletide favorite tells the story of a young girl named Clara who receives a magical nutcracker doll on Christmas Eve, and sets out on a wondrous journey to the Land of the Snow and the Kingdom of Sweets. Toy soldiers, life-sized dancing dolls, and a fantastic dream with battling mice, dancing snowflakes, waltzing flowers, and the delightful Sugar Plum Fairy stir the imagination. IPB's The Nutcracker is the holiday tradition your family will treasure!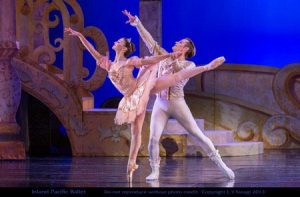 Bridges Auditorium is a premier college venue for the best in music, theatre, and performing arts. Located on the Pomona College campus in beautiful Claremont, California, the 2,500-seat theatre, built in 1931, is a historic venue modeled after European concert houses of that time.
A Christmas Carol
at A Noise Within
Thursday
December 14, 2017
9:00 am – 12:00/1:00
COST:      $19.00 per person        (no refunds)
PLACE:     A Noise Within-3352 E Foothill Blvd., Pasadena, CA 91107
PARKING:  Free parking is available directly behind the theater at the Sierra Madre Villa Metro Parking Structure,
which is located at: 149 N. Halstead St. Pasadena, CA 91107
Walking Directions from the Metro Parking Structure:
Exit the parking structure at Level 1 on the Sierra Madre Villa Ave side where the elevators are located (see map). Follow the walkway between the apartment complex and the theatre building and you will find ANW on your right.
Registration Deadline: Thursday, November 9, 2017 (or until full) 
A Noise Within's delightfully festive, musically merry holiday tradition returns! Families love the inspirational story of Bob Crachit, Tiny Tim, and Scrooge—the perfect burst of boundless good cheer for the season, and beyond!  There will be a pre-show activities as well as a post-show activity which provides the students an opportunity to ask the actors questions.
A Christmas Carol is a novella by Charles Dickens about Ebenezer Scrooge, an old man, who is well-known for his miserly ways.  On Christmas Eve, Scrooge is visited by a series of ghosts, starting with his old business partner, Jacob Marley. The three spirits which follow, the Ghosts of Christmas Past, Christmas Present and Christmas Yet to Come, show Scrooge how his mean behavior has affected those around him. At the end of the story he is relieved to discover that there is still time for him to change and we see him transformed into a generous and kind-hearted human being.
Social & Historical Context:
Dickens wrote this story in 1843. At the time there was a tradition for reading ghost stories at Christmas, hence the numerous spirits that Scrooge encounters. The themes of wealth and injustice are clear comments on the inequalities of wealth distribution in Victorian England.
For questions: eiefieldtrips@gmail.com
Annual Christmas Craft and Cookie Swap Get-Together
Date:  Monday
December 18, 2017
3:00 – 5:00
PLACE:  Excellence In Education
DEADLINE:  Registration and payment must be received by December 11, 2017, no exceptions.
COST:  $5.00 per child
AGE RANGE:  All ages! 

Please join us for this Christmas craft and get-together event.  Children will be making a Christmas craft  and decorating a cookie container.
Please bring two dozen cookies or candies to share per paying child.  These will be shared and put into the decorated container for each child to take home.
Monday
December 18, 2017
8:30 AM – 11:00 AM
COST:  $10.00 per person, including skate rental!
PLACE:  Pasadena Ice Skating Center
300 East Green Street
Pasadena, CA
PARKING:  Approximately $7.00 in Sheraton lot or across the street at approximately $1.00 per hour with a validation from the Paseo Colorado mall.  Be sure to verify these rates for yourself.
DEADLINE:  December 11, 2017
This is a great opportunity for all ages.  There is a 25 minute lesson followed by a free skate time.  
TEENS:  This is a wonderful opportunity to meet other teens.
Dress warmly since this is an ICE RINK!
Beginners:  Bring mittens, gloves or warm socks for your hands.