Literature Classes for All Types of Readers!!
ARMCHAIR ADVENTURES 
Literature Classes
Exploring the world through great authors!
These classes are for children who love to read, children who hate to read, children who struggle to read and children who would rather play video games or watch TV or do anything else at all in the entire world but read.  
I started ARMCHAIR ADVENTURES, because I wanted to create a safe place where kids could read exciting books and talk about them with other children. This class is for all types of readers!!  There is extensive research to support the premise that the best way to become a better reader is to read more. (Allington, 2001).
Kids can benefit from reading whether they're reading the book on their own, having an older sibling or parent read it to them or listening to it on audiobook. It doesn't matter how your child reads the book, reading opens your imagination, introduces you to new worlds, helps kids understand things without having to experience it themselves, expands your literacy skills, improves spelling, grammar and introduces you to new vocabulary you can use in the future.
ARMCHAIR ADVENTURES classes are different, because they not only get your child reading on a regular basis, they help them to develop their literary analysis skills and help them to discuss what they are reading in a group setting of their peers.
For children who struggle to read or hate to read, I would highly encourage you to sit down with your kids and read to them. Even if your child loves to read and is a great reader, reading out loud to your child has many benefits. As a homeschool mom some of my very favorite memories are reading to my children. My daughter used to stop me constantly to ask questions – what does that mean? why did he/she do that? Or she would point out how it was similar to something she or someone else had said or done. She was connecting to the story. One book touched my son's heart so deeply that he cried and cried in empathy for someone else's pain. And because we were reading aloud, I was there to comfort him, to answer my daughter's questions, and to share in the connections they were making to the story. It stimulated a dialogue between the three of us and created a strong bond. To me those moments are priceless.
Another great option is audiobooks. When my children were younger, we spent a lot of time in the car going to park days, classes, etc. I found that playing audiobooks made this time productive and fun. Audiobooks are like a play for your ears especially if the reader adopts different voices for the different characters.
Ultimately the goal is to love the story. That's the point of reading – to be transported. Picking books that your child is interested in and enjoys encourages them to become life-long readers.
Literature is terrific fun!  It encourages you to think.  It helps you dream.  It is full of heroes and villains, suspense and humor, adventure and wonder, and new ideas.  It introduces you to writers who reach out across time to say:
"Do you want to hear a story I wrote?"  – W.T. Robinson
BOOKS:  A List of Books for each class is Available Upon Request. Books can be purchased through Carolyn Forte at EiE.
COST:  See Below – 3 Payment Options Available
LOCATION:  All classes are taught at EIE in Monrovia – 2640 S. Myrtle Avenue, south of the 210 freeway
Registration for Fall Semester is now open! Send a $50 non-refundable deposit to hold your child's place via Paypal to vanderloofamily@yahoo.com (make sure you click friends & family, so you don't get charged a fee) or mail to 3213 Shadylawn Drive, Duarte, CA 91010. 
Wednesday

 Classes start 

September 13th

 and Friday Classes start 

September 15th

.
WHY HAVE YOUR CHILD PARTICIPATE IN A DISCUSSION LITERATURE CLASS?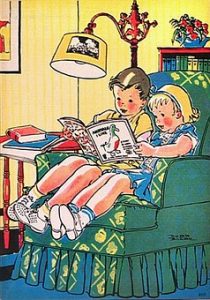 •It's fun!
•Encourages critical thinking
•Develops discussion skills
•Promotes respect for others' opinions
•Exposes members to broader reading experiences
•Stimulates interest in reading
•Encourages higher academic achievement
•Provides an opportunity to meet new kids and make new friends
•Develops the habit of reading for pleasure and a life-long commitment to learning.
"The more that you read, the more things you will know.  The more you learn, the more places you'll go!"  ~ Dr. Seuss
ARMCHAIR ADVENTURES LITERATURE CLASSES
ARMCHAIR ADVENTURES are Literature Classes dedicated to reading and discussing literature. We read two books a month spending two weeks on each book.  The kids read half of the book for the first class and then they complete the book for the second week. Each class we will have an informal yet informative discussion about the book and play fun literary games like Literature Jeopardy.  The main objectives are to create a desire for your child to enjoy great literature, learn how to deepen their understanding of what they are reading, and get comfortable discussing their ideas and opinions in a group setting. They will be learning how to analyze literature in a supportive and fun environment. We will be discussing characters, protagonist/antagonist, plots, setting, themes, genre, point of view narration, conflicts, literary devices like simile, personification, alliteration, metaphor, etc., and vocabulary.
Important note:  There will be NO book reports required for these classes.  These are discussion classes.
3 Great Classes To Chose From:
ARMCHAIR ADVENTURES 7-10 meets Fridays 11 – 12
Recommended for 7-10 year olds. The books will be approximately 100-150 pages long and appropriate for 2nd-4th graders.
ARMCHAIR ADVENTURES 10-12 meets Wednesdays  

1:45 – 2:45
Recommended for 10-12 year olds. The books will be approximately 150-300 pages long and appropriate for 5th-7th graders.
ARMCHAIR ADVENTURES 12-15+ meets Wednesdays 

3:00-4:00
Recommended for 12-15+ year olds (Middle School/ High School). The books will be appropriate for middle school and high school students. This class will be fun and a great way to meet other teens!
*The ages for each group are only a suggestion. You know your child and their interests and abilities. If you have any questions about which group is better for your child, I will be happy to send you the reading list for both classes. Your child is welcome to try both classes to see which one is a better fit.
Cost for ARMCHAIR ADVENTURES:  3 Payment Options to Fit Your Lifestyle
1) By Semester: $154 – Class fees are due the 1st class of the semester. No refunds will be given for missed classes.
2) By the Month:  $50 – Class fees are due the first day of the month. No refunds will be given for missed classes.
3) By the Class:  $15 a class – Class fees are due at the beginning of the class being attended. *Cash only please.
Charters: 
Sky Mountain – Please add a $25 charter school fee per semester
Homeschool Coaches 
(vendor with Golden Valley, Sage Oak, Excel, iLead, Inspire, Gorman, Compass, CA Enrichment Academy, and Academy of Arts & Sciences)
 –  
Please add a $50 charter school fee per semester. 
*If you do not see your school listed, please contact me to get them signed up thru Homeschool Coaches.